Concomitant using of topical carrageenan-kappa and oral vitamin D against 7, 12-dimethylbenz[a]anthracene induced-oral cancer in rats: A synergism or an antagonism effects
Abstract
Objective: ?-carrageenan is a food stabilizer agent which has an antiproliferative effect, while vitamin D is a prohormone acts on the nuclear receptor and has a cytotoxic against cancer. This study aimed to show the synergistic effect of using topical ?-carrageenan and oral administration of the vitamin D on the 7, 12-dimethylbenz[a] anthracene (DMBA)-induced oral cancer. Material and Methods: fifty four male albino rats were randomly divided into seven groups: Acetone-treated served as control (Group I), vitamin D (5000UI)-treated (Group II), ?-carrageenan (1%)- treated (Group III), DMBA (0.5%)-treated (Group IV), Acetone, ?-carrageenan and DMBA were administered topically on both cheeks and palate, five times weekly for 12 weeks, while the vitamin D was  administered orally twice weekly for 12 weeks. Groups V, VI, and VII were animals treated with vitamin D, ?-carrageenan, and both vitamin D and ?-carrageenan for 8 weeks after induction of oral cancer. At the end of the study, blood samples were obtained by cardiac puncture for determination of TNF-? and EGFR. Results: In the groups III and IV, serum EGFR showed significant low levels compared with Group I. In the Group VII, serum EGFR showed a significantly (p=0.014) low level compared with Group IV (614.3±69.7 pg/ml versus 882.4±45.6 pg/ml, respectively). Higher percentages of high levels of TNF-? were observed in the Groups VI and VII, while a lower percentage of EGFR was observed in the Group VI. Conclusion: both ?-carrageenan and vitamin D have antiproliferative effect against DMBA-inducing oral cancer by increasing the levels of TNF-? and suppressing the signaling pathway of EGFR. Concomitant using ?-carrageenan and vitamin D reduces the antiproliferative effect of each other. 
Keywords
Oral cancer; 7, 12-dimethylbenz[a] anthracene; Vitamin D; ?-carrageenan; Epidermal growth factor receptor; Tumor necrosis factor-?. 
References
Wright KD, Miller BS, El-Meanawy S, Tsaih SW, Banerjee A, Geurts AM, et al. The p52 isoform of SHC1 is a key driver of breast cancer initiation. Breast Cancer Res. 2019;21(1):74. doi:10.1186/s13058-019-1155-7
Alyoussef A, Taha M. Blocking Wnt as a therapeutic target in mice model of skin cancer. Arch Dermatol Res. 2019;311(8):595–605. doi:10.1007/s00403-019-01939-4
Zingue S, Kamga Silihe K, Fouba Bourfane I, Boukar A, Tueche AB, Njuh AN, et al. Potential of regular consumption of Cameroonian Neem (Azadirachta indica L.) oil for prevention of the 7,12-dimethylbenz(a)anthracene-induced breast cancer in high-fat/sucrose-fed Wistar rats. Evid Based Complement Alternat Med. 2019;2019:2031460. doi:10.1155/2019/2031460
Zeweil MM, Sadek KM, Taha NM, El-Sayed Y, Menshawy S. Graviola attenuates DMBA-induced breast cancer possibly through augmenting apoptosis and antioxidant pathway and downregulating estrogen receptors. Environ Sci Pollut Res Int. 2019;26(15):15209–15217. doi:10.1007/s11356-019-04920-w
Babukumar S, Vinothkumar V, Ramachandhiran D. Modulating effect of hesperetin on the molecular expression pattern of apoptotic and cell proliferative markers in 7,12-dimethylbenz(a)anthracene-induced oral carcinogenesis. Arch Physiol Biochem. 2019;1–10. doi:10.1080/13813455.2018.1555600
Gopalakrishnan T, Ganapathy S, Veeran V, Namasivayam N. Preventive effect of D-carvone during DMBA induced mouse skin tumorigenesis by modulating xenobiotic metabolism and induction of apoptotic events. Biomed Pharmacother. 2019;111:178–187. doi:10.1016/j.biopha.2018.12.071
Moayedi Y, Greenberg SA, Jenkins BA, Marshall KL, Dimitrov LV, Nelson AM, et al. Camphor white oil induces tumor regression through cytotoxic T cell-dependent mechanisms. Mol Carcinog. 2019;58(5):722–34. doi:10.1002/mc.22965
Dantas TS, Barros Silva PG, Lima Verde MEQ, Ribeiro Junior AL, Cunha MDPSS, Mota MRL, et al. Role of inflammatory markers in prognosis of oral squamous cell carcinoma. Asian Pac J Cancer Prev. 2019;20(12):3635–42. Published 2019 Dec 1. doi:10.31557/APJCP.2019.20.12.3635
Putra WE, Rifa'i M. Immunomodulatory Activities of Sambucus javanica Extracts in DMBA-Exposed BALB/c Mouse. Adv Pharm Bull. 2019 Oct; 9(4):619-23. doi:10.15171/apb.2019.071
Lv XX, Zheng XY, Yu JJ, Ma HR, Hua C, Gao RT. EGFR enhances the stemness and progression of oral cancer through inhibiting autophagic degradation of SOX2. Cancer Med. 2020 Feb; 9(3):1131-40. doi:10.1002/cam4.2772
Hoesl C, Fröhlich T, Hundt JE, Kneitz H, Goebeler M, Wolf R, et al. The transmembrane protein LRIG2 increases tumor progression in skin carcinogenesis. Mol Oncol. 2019 Nov;13(11):2476-92. doi:10.1002/1878-0261.12579
Vigani B, Rossi S, Gentile M, Sandri G, Bonferoni MC, Cavalloro V, et al. Development of a mucoadhesive and an in situ gelling formulation based on κ-carrageenan for application on oral mucosa and esophagus walls. II. Loading of a bioactive hydroalcoholic extract. Mar Drugs. 2019;17(3):153. Published 2019 Mar 5. doi:10.3390/md17030153
Sokolova EV, Menzorova NI, Davydova VN, Kuz'mich AS, Kravchenko AO, Mishchenko NP, et al. Effects of carrageenans on biological properties of echinochrome. Mar Drugs. 2018;16(11):419. Published 2018 Nov 1. doi:10.3390/md16110419
Liu Y, Qin Y, Bai R, Zhang X, Yuan L, Liu J. Preparation of pH-sensitive and antioxidant packaging films based on κ-carrageenan and mulberry polyphenolic extract. Int J Biol Macromol. 2019;134:993–1001. doi:10.1016/j.ijbiomac.2019.05.175
Souza RB, Frota AF, Silva J, Alves C, Neugebauer AZ, Pinteus S, et al. In vitro activities of kappa-carrageenan isolated from red marine alga Hypnea musciformis: Antimicrobial, anticancer and neuroprotective potential. Int J Biol Macromol. 2018;112:1248–1256. doi:10.1016/j.ijbiomac.2018.02.029
Calvo GH, Cosenza VA, Sáenz DA, Navarro DA, Stortz CA, Céspedes MA, et al. Disaccharides obtained from carrageenans as potential antitumor agents. Sci Rep. 2019 Apr 30;9(1):6654. doi:10.1038/s41598-019-43238-y
Tan KW, Sampson A, Osa-Andrews B, Iram SH. Calcitriol and calcipotriol modulate transport activity of ABC transporters and exhibit selective cytotoxicity in MRP1-overexpressing cells. Drug Metab Dispos. 2018 Dec;46(12):1856-66. doi:10.1124/dmd.118.081612
Razak S, Afsar T, Almajwal A, Alam I, Jahan S. Growth inhibition and apoptosis in colorectal cancer cells induced by Vitamin D-Nanoemulsion (NVD): involvement of Wnt/β-catenin and other signal transduction pathways. Cell Biosci. 2019 Feb 1;9:15. doi:10.1186/s13578-019-0277-z
Grant WB, Moukayed M. Vitamin D3 from ultraviolet-B exposure or oral intake in relation to cancer incidence and mortality. Curr Nutr Rep. 2019 Sep;8(3):203-11. doi:10.1007/s13668-019-0262-5
G D, Nandan SRK, Kulkarni PG. Salivary tumour necrosis factor-α as a biomarker in oral leukoplakia and oral squamous cell carcinoma. Asian Pac J Cancer Prev. 2019 Jul 1;20(7):2087-93. doi:10.31557/APJCP.2019.20.7.2087
Böhrnsen F, Holzenburg J, Godek F, Kauffmann P, Moser N, Schliephake H. Influence of tumour necrosis factor alpha on epithelial-mesenchymal transition of oral cancer cells in co-culture with mesenchymal stromal cells. Int J Oral Maxillofac Surg. 2020;49(2):157–165. doi:10.1016/j.ijom.2019.06.001
Schiegnitz E, Kämmerer PW, Schön H, Blatt S, Berres M, Sagheb K, et al. Proinflammatory cytokines as serum biomarker in oral carcinoma-A prospective multi-biomarker approach. J Oral Pathol Med. 2018 Mar;47(3):268-74. doi:10.1111/jop.12670
Sur B, Kang S, Kim M, Oh S. Inhibition of carrageenan/kaolin-induced arthritis in rats and of inflammatory cytokine expressions in human IL-1β-stimulated fibroblast-like synoviocytes by a benzylideneacetophenone derivative. Derivative. Inflammation. 2019;42(3):928–936. doi:10.1007/s10753-018-0947-8
Wang Q, Zhou X, Jiang J, Zhang P, Xia S, Ding Y, et al. Relationship between serum 25-hydroxyvitamin D3 levels and severity of chronic periodontitis in type 2 diabetic patients: A cross-sectional study. J Periodontal Res. 2019;54(6):671–680. doi:10.1111/jre.12669
Martínez-Reza I, Díaz L, Barrera D, Segovia-Mendoza M, Pedraza-Sánchez S, Soca-Chafre G, et al. Calcitriol inhibits the proliferation of triple-negative breast cancer cells through a mechanism involving the proinflammatory cytokines IL-1β and TNF-α. J Immunol Res. 2019;2019:6384278. doi:10.1155/2019/6384278
Etemad-Moghadam S, Alaeddini M. Upregulation of ADAM10 in oral squamous cell carcinoma and its correlation with EGFR, neoangiogenesis and clinicopathologic factors. J Craniomaxillofac Surg. 2019 Oct;47(10):1583-8. doi:10.1016/j.jcms.2019.07.008
He G, Cheng C, Lu R. Studies on biological effects of kappa-selenocarrageenan on human breast cancer cell line BCaP-37. Zhonghua Yu Fang Yi Xue Za Zhi. 1997 Mar;31(2):103-6.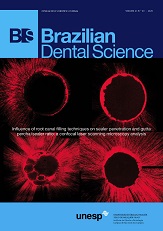 Downloads
Section
Clinical or Laboratorial Research Manuscript