Evaluation of oral pathologic lesions in elderly patients in Isfahan, Iran, 1989-2018 years
Abstract
Objective: One of the most important alterations in elderly is the destruction and loss of teeth and oral mucosal lesions. The aim of this study was to determine the frequency of biopsed pathologic lesions in elderly registered in the pathology department of Isfahan University of Medical Sciences during 1989 to 2018 years. Material and Methods: This crosssectional descriptive-analytic study was performed on pathologic lesions in elderly archived in Faculty of Dentistry, Isfahan University of Medical Sciences. In this study, all archived information of elderly over 65 years including gender, age, location of lesion, clinical diagnosis, pathology diagnosis, and diagnosis year were evaluated in last three decades, and were analyzed statistically. Results: The age range of elderly patients was 65 to 90 years with a mean of 72.8 ± 4.9. The highest frequency for location of lesions was related to mandibular vestibule (21.1%). The most clinical diagnosed lesions were squamous cell carcinoma (24.5%) and Epulis Fissuratum (13.4%). The highest pathologic diagnosed lesions were related to reactive lesions group (35.6%). The squamous cell carcinoma malignancies and other malignancies were increased significantly in elderly patients with high age. Conclusion: According to the considerable frequency of oral lesions in elderly and increased frequency of squamous cell carcinoma and other malignancies, attention to oral lesions in elderly and periodic examinations are important to early diagnosis and treatment.
KEYWORDS
Pathology; Biopsy; Elderly; Oral lesions; Isfahan.
References
Modanloo MM, Khosravee H, Ghobadee Kh, Abdollahi H, Ziaea T, Behnampour N. Dental health status in elderly (Gorgan-Iran). J Gorgan Univ Med Sci. 2010;12(3):68-73.
Raoufi S. Investigate causes of the fall of the elderly Aligoodarz in 2006. J Aflak Lorestan Univ Med Sci. 2006;2(48):4-5.
Ghaderi S, Sahaf R, Shahbalaghi FM, Ansari G, Gharanjic A, Ashrafi K, et al. Prevalence of depression in elderly kurdish community residing in boukan, Iran. Salmand Iran J Age. 2012;7(1):57-66
Shiralizadeh J, Barmaki H, Haiaty S, Faridvand Y, Mostafazadeh M, Mokarizadeh N, et al. The effects of high and low doses of folic acid on oxidation of protein levels during pregnancy: a randomized double-blind clinical trial. Horm Mol Biol Clin Investig. 2017;33(3):/j/hmbci.2018.33.issue-3/hmbci-2017-0039/hmbci-2017-0039.xml. doi:10.1515/hmbci-2017-0039
Hajizadeh YS, Emami E, Nottagh M, Amini Z, Maroufi NF, Azimian SH, et al. Effects of interleukin-1 receptor antagonist (IL-1Ra) gene 86 bp VNTR polymorphism on recurrent pregnancy loss: a case-control study. Horm Mol Biol Clin Investig. 2017;30(3):/j/hmbci.2017.30.issue-3/hmbci-2017-0010/hmbci-2017-0010.xml. doi:10.1515/hmbci-2017-0010
Nasirpour H, Key YA, Kazemipur N, Shadman B, Hajazimian S, Taefehshokr S. The effects of cholesterol lowering drugs on vitamin D status in familial hypercholesterolemia patients. Arch Med Lab Sci. 2017;3(4):29-33. doi: https://doi.org/10.22037/amls.v3i4.19099
Kosari M, Hoseini Z, Golrizi F. The investigation of oral and dental status and its related factors in the elderly in Torbat Heydariyeh in 2015. J Health Chimes. 2016; 4(2):39-44.
Molania T, Mousavi SJ, Ahangari M, Salehi M. Prevalence of Oral Mucosal Lesions in Nursing Home from Dental School Foundation up to 2010. Mash Dent Sch. 2013;37(2):127-36.
Mozafari PM, Dalirsani Z, Delavarian Z, Amirchaghmaghi M, Shakeri MT, Prevalence of oral mucosal lesions in institutionalized elderly people in Mashhad, Northeast Iran. Gerodontology. 2012;29(2):e930‐e934. doi:10.1111/j.1741-2358.2011.00588.x
Shulman JD, Beach MM, Rivera-Hidalgo F. The prevalence of oral mucosal lesions in U.S. adults: data from the Third National Health and Nutrition Examination Survey, 1988-1994. J Am Dent Assoc. 2004;135(9):1279‐86. doi:10.14219/jada.archive.2004.0403
Saberi Z, Pakravan F, Mohsenzadeh L. Prevalence of oral mucosal status in resident and non-resident nursing home in Isfahan city, Iran: a comparative cross-sectional study. Braz Dent Sci. 2019; 22(4): 475-82.doi: https://doi.org/10.14295/bds.2019.v22i4.1750
Shay K. Restorative considerations in the dental treatment of the older patients, geriatric Dentistry. Gen Dent. 2000; 48(5):550-3.
Motaleb Nejad M, Shirvani M. Oral mucosal lesions in elderly population, Tehran Kahrizak Geriatric Institute, 2000. J Babol Univ Med Sci. 2002;4(3):28-33.
Owlia F, Ahadian H, Rustaei zadeh Z, Bahadori L. The prevalence of oral lesion among elderly in yazd province nursing homes in 2014. J Health. 2017; 8(3):321-7.
Ferreira RC, Magalhaes CS. Oral mucosal alterations among the institutionalized elderly in Brazil. Braz Oral Res. 2010; 24(3); 269-302.
Silva LP, Leite RB, Sobral APV, Arruda JA, Oliveira LV, Noronha MS, et al. Oral and maxillofacial lesions diagnosed in older people of a brazilian population: a multicentric study. J Am Geriatr Soc. 2017;65(7):1586‐90. doi:10.1111/jgs.14815
Mohan BC, Angadi PV, Hallikerimath S, Kale AD. Diagnoses of 964 oral biopsies from people aged over 50 years in Karnataka State, India. Gerodontology. 2016;33(2):217‐24. doi:10.1111/ger.12143
Dhanuthai K, Rojanawatsirivej S, Somkotra T, Shin HI, Hong SP, Darling M, et al. Geriatric oral lesions: a multicentric study. Geriatr Gerontol Int. 2016;16(2):237‐43. doi:10.1111/ggi.12458
Corbet EF, Holmgren CJ, Phillipsen HP. Oral mucosal lesions in 65-74-year-old Hong Kong Chinese. Community Dent Oral Epidemiol. 1994;22(5 Pt 2):392‐5. doi:10.1111/j.1600-0528.1994.tb01599.x
Lin HC, Corbet EF, Lo EC. Oral mucosal lesions in adult Chinese. J Dent Res. 2001;80(5):1486‐90. doi:10.1177/00220345010800052001
van Wyk CW, Farman AG, Staz J. Oral health status of institutionalized elderly Cape Coloreds from the Cape Peninsula of South Africa. Community Dent Oral Epidemiol. 1977;5(4):179‐84. doi:10.1111/j.1600-0528.1977.tb01636.x
Souza S, Alves T, Santos J, Oliveira M. Oral lesions in elderly patients in referral centers for oral lesions of Bahia. Int Arch Otorhinolaryngol. 2015;19(4):279‐85. doi:10.1055/s-0035-1554727
Lei F, Chen JY, Wang WC, Lin LM, Huang HC, Ho KY, et al. Retrospective study of oral and maxillofacial lesions in older Taiwanese patients. Gerodontology. 2015;32(4):281‐7. doi:10.1111/ger.12118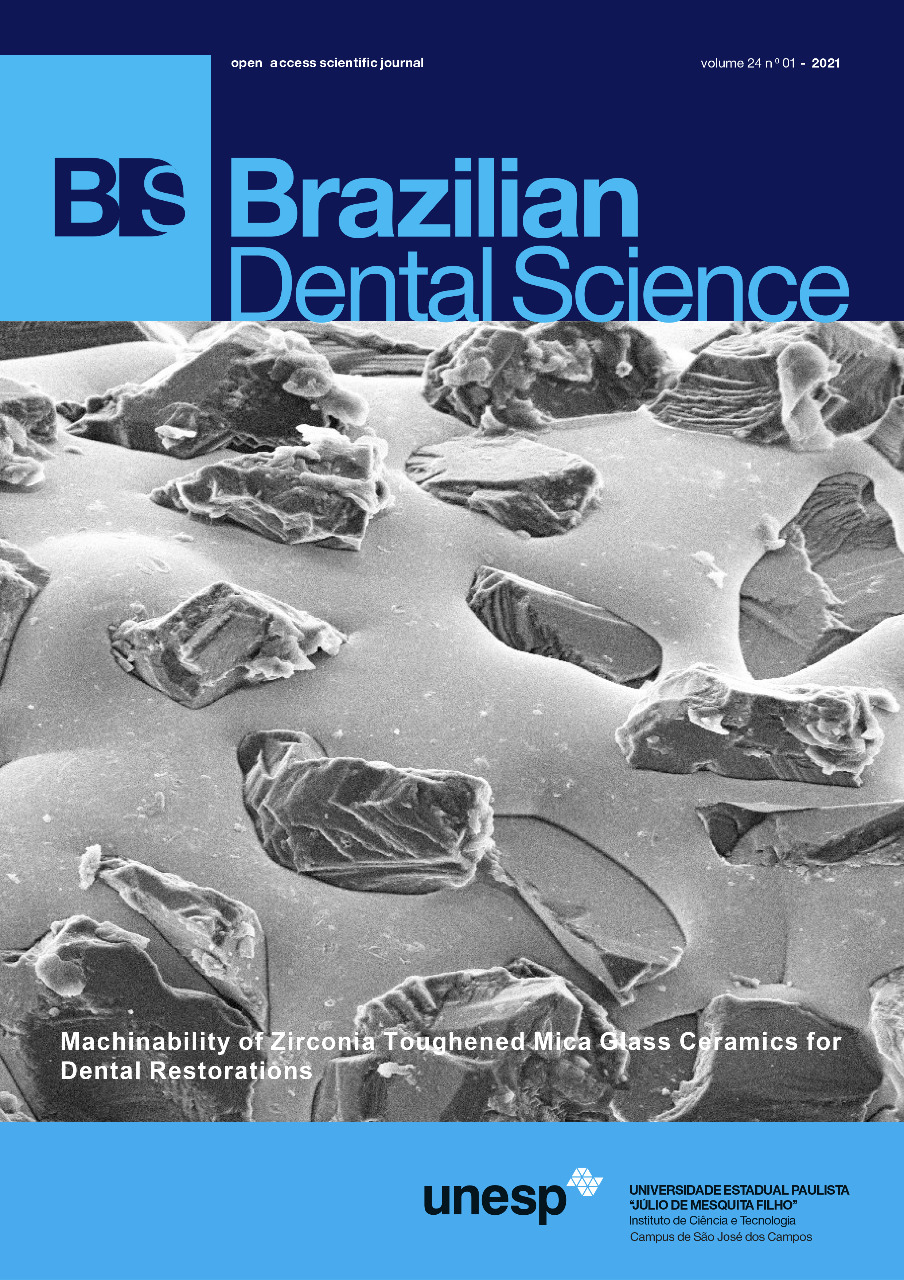 Downloads
Section
Clinical or Laboratorial Research Manuscript