Comprehensive periodontal treatment in generalized stage iv, grade c periodontitis: a clinical case report
Abstract
Generalized stage IV, grade C periodontitis results in rapid bone destruction in the periodontium and can lead to early tooth loss. Scaling and root planing (SRP) complemented by systemic antibiotics, access surgery, regenerative techniques and implant placement are among the treatments used for patients with this condition. The aim of this article is to report a comprehensive periodontal treatment in a 23-year-old male who was referred to the periodontology department due to complaints of tooth mobility and gum infections diagnosed with generalized stage IV, grade C periodontitis according to the clinical, systemic, and family history features observed. Thorough non-surgical periodontal treatment consisting of scaling and root planing was provided, followed by a series of regenerative periodontal surgeries including guided tissue regeneration (GTR) and guided bone regeneration(GBR) to manage advanced bone defects. Six months after periodontal therapy, all implants were inserted using a one-stage approach and Six months later, they were restored with porcelain fused to metal crowns. During the one and two-year follow-ups, the teeth and implants did not show any signs of instability, attachment loss or bone loss. This case report shows that within the limitations of this study a successful outcome can be achieved with an early diagnosis and treatment involving elimination of infectious microorganisms and meticulous long-term maintenance combined with regenerative techniques and implant placement to restore the masticatory function and improve the quality of life for the patient. However further investigation and clinical studies are required to confirm these results.
KEYWORDS
Stage IV grade C periodontitis; Aggressive periodontitis; Dental implants; Maintenance; Regeneration.
References
Ramírez V, Hach M, López R. Definition of aggressive periodontitis in periodontal research. A systematic review. J Clin Periodontol. 2018 Mar;45(3):278-84.
Teughels W, Dhondt R, Dekeyser C, Quirynen M. Treatment of aggressive periodontitis. Periodontol 2000. 2014;65(1):107-33.
Rabelo CC, Feres M, Gonçalves C, Figueiredo LC, Faveri M, Tu YK, et al. Systemic antibiotics in the treatment of aggressive periodontitis. A systematic review and a Bayesian Network meta-analysis. J Clin Periodontol. 2015;42(7):647-57.
Sgolastra F, Petrucci A, Gatto R, Monaco A. Effectiveness of systemic amoxicillin/metronidazole as an adjunctive therapy to full-mouth scaling and root planing in the treatment of aggressive periodontitis: a systematic review and meta-analysis. J Periodontol. 2012 Jun;83(6):731-43.
Herrera D, Sanz M, Jepsen S, Needleman I, Roldán S. A systematic review on the effect of systemic antimicrobials as an adjunct to scaling and root planing in periodontitis patients. J Clin Periodontol. 2002;29 Suppl 3:136-59.
Deas DE, Mealey BL. Response of chronic and aggressive periodontitis to treatment. Periodontol 2000. 2010 Jun;53:154-66.
Al-Zahrani MS. Implant therapy in aggressive periodontitis patients: a systematic review and clinical implications. Quintessence Int. 2008 Mar;39(3):211-5.
Theodoridis C, Grigoriadis A, Menexes G, Vouros I. Outcomes of implant therapy in patients with a history of aggressive periodontitis. A systematic review and meta-analysis. Clin Oral Investig. 2017 Mar;21(2):485-503.
Mengel R, Behle M, Flores-de-Jacoby L. Osseointegrated implants in subjects treated for generalized aggressive periodontitis: 10-year results of a prospective, long-term cohort study. J Periodontol. 2007 Dec;78(12):2229-37.
Bezrukova IV.The concept of maintenance therapy for periodontal inflammations characterized by an aggressive course .Stomatologiia (Mosk). 2004;83(3):22-5.
Graetz C, Sälzer S, Plaumann A, Schlattmann P, Kahl M, Springer C, et al. Tooth loss in generalized aggressive periodontitis: Prognostic factors after 17 years of supportive periodontal treatment. J Clin Periodontol. 2017 Jun;44(6):612-9.
Hu KF, Ho YP, Ho KY, Wu YM, Wang WC, Chou YH. Clinical Case Report on Treatment of Generalized Aggressive Periodontitis: 5-Year Follow-up. Int J Periodontics Restorative Dent. 2015 May-Jun;35(3):395-400.
Ramesh A, Ravi S, Kaarthikeyan G. Comprehensive rehabilitation using dental implants in generalized aggressive periodontitis. J Indian Soc Periodontol. 2017 Mar-Apr;21(2):160-3.
Kamil W, Al Bayati L, Hussin AS, Hassan H. Reconstruction of advanced bone defect associated with severely compromised maxillary anterior teeth in aggressive periodontitis: a case report. J Med Case Rep. 2015;9:211.
Angle H. Classification of malocclusion. Dental comos. 1899;41:248-64.
Cortellini P, Prato GP, Tonetti MS. The simplified papilla preservation flap. A novel surgical approach for the management of soft tissues in regenerative procedures. Int J Periodontics Restorative Dent. 1999 Dec;19(6):589-99.
Renouard F, Nisand D. Impact of implant length and diameter on survival rates. Clin Oral Implants Res. 2006 Oct;17 Suppl 2:35-51.
Pjetursson BE, Rast C, Brägger U, Schmidlin K, Zwahlen M, Lang NP. Maxillary sinus floor elevation using the (transalveolar) osteotome technique with or without grafting material. Part I: Implant survival and patients' perception. Clin Oral Implants Res. 2009 Jul;20(7):667-76.
Hermes CR, Baumhardt SG, Rösing CK. Occurrence of aggressive periodontitis in patients at a dental school in southern Brazil. Acta Odontol Latinoam. 2013;26(2):84-8.
Masamatti SS, Kumar A, Virdi MS. Periodontal diseases in children and adolescents: a clinician's perspective part. Dent Update. 2012 Oct;39(8):541-4, 547-8, 551-2.
Jambhekar S, Kernen F, Bidra AS. Clinical and histologic outcomes of socket grafting after flapless tooth extraction: a systematic review of randomized controlled clinical trials. J Prosthet Dent. 2015 May;113(5):371-82.
Gheisari R, Eatemadi H, Alavian A. Comparison of the Marginal Bone Loss in One-stage versus Two-stage Implant Surgery. J Dent (Shiraz). 2017 Dec;18(4):272-6.
Stefanski S, Svensson B, Thor A. Implant survival following sinus membrane elevation without grafting and immediate implant installation with a one-stage technique: an up-to-40-month evaluation. Clin Oral Implants Res. 2017 Nov;28(11):1354-9.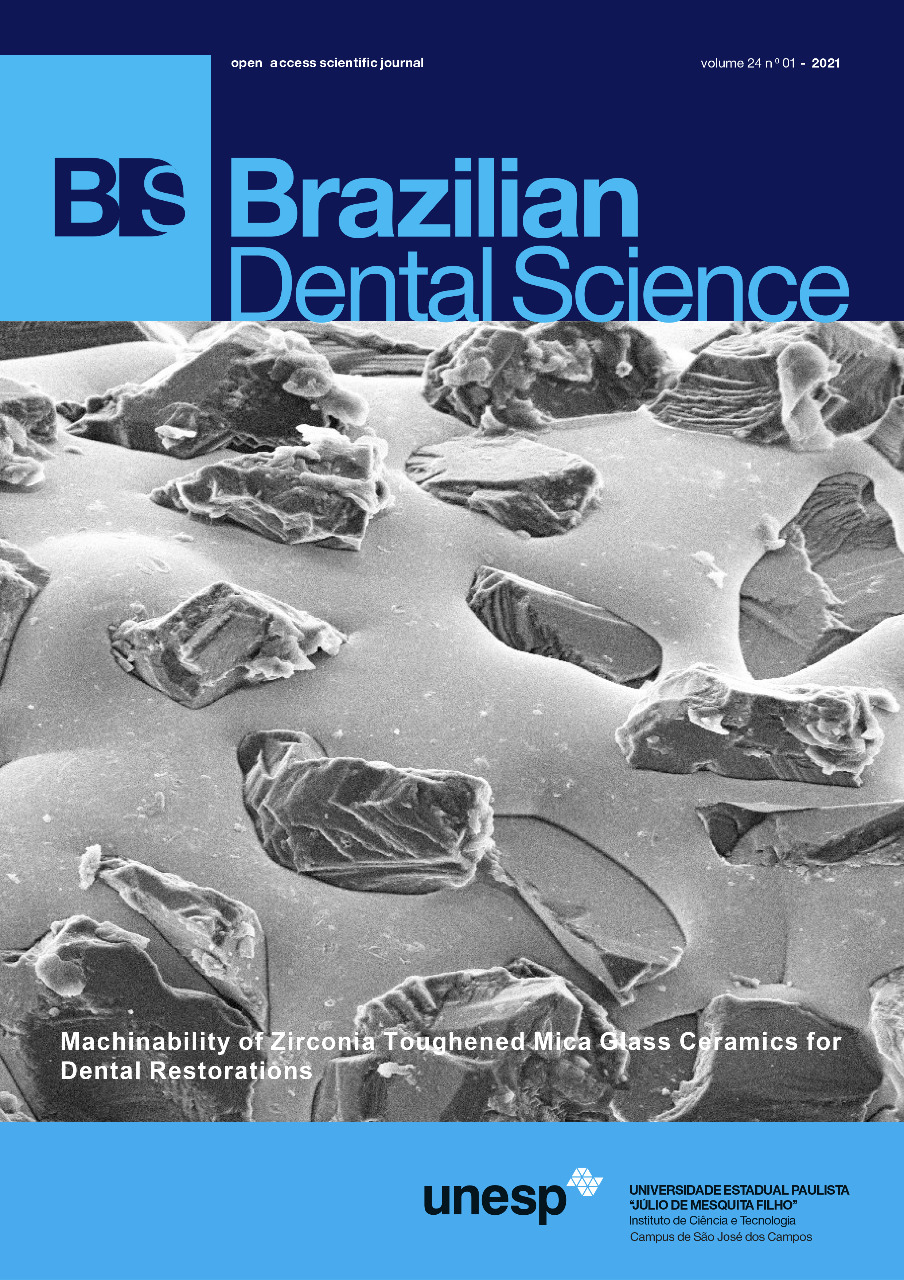 Downloads
Section
Case Report / Clinical Technique Manuscript