Friction generated by elastomeric ligature with and without polymer coating
Keywords:
Elastômeros, Fricção, Ortodontia.
Abstract
O objetivo deste estudo foi comparar, in vitro, o atrito gerado por ligaduras elásticas com cobertura polimérica com ligaduras convencionais. Foram testados três calibres de fio: 0.020", 0.019" x 0.025" and 0.019" x 0.026 ". Foram confeccionadas duas placas de acrílico, onde emu ma placa foi colado um bráquete de incisivo central superior e na outra placa foi feito uma canaleta onde os fios ortodônticos eram fixados. As placas de acrílico foram fixadas e reguladas em uma máquina de ensaio de tração de maneira que o fio fosse fixado ao bráquete sem nenhuma angulação. Para cada fio foram testadas 10 ligaduras de cada tipo. Os fios foram tracionados pelo slot do bráquete a uma distância de 5mm com uma velocidade constante de 5mm/min. Os resultados obtidos foram comparados pelo teste t de Student com significância de p<0.05, e revelaram a existência de diferenças significativas entre as forces geradas para cada caliber de fio. As ligaduras convencionais sem cobertura polimérica geraram forças significantemente maiores que as ligaduras com cobertura polimérica. As ligaduras com cobertura polimérica geraram menor atrito que as ligaduras convencionais em todos os calibres de fio avaliados, sugerindo que este tipo de ligaduras pode ser usado como escolha nas mecânicas de distalização.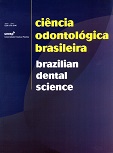 Downloads
Section
Clinical or Laboratorial Research Manuscript