Assessment of microbiological contamination of radiographic devices in School of Dentistry
Keywords:
Radiologia, Contaminação biológica, Contaminação de equipamentos, Controle de infecções dentárias.
Abstract
Although dental radiology is not directly involved in either invasive procedures or in the use of piercing-cutting material, the high-touch areas of dental x-ray device, including radiographic films, are a potential source of infection. The purpose of this study was to assess the amount of cross infection present in the dental x-ray devices of the School of Dentistry of the Federal University of Maranhão by investigating the presence of pathogenic microorganisms in high-touch areas of dental x-ray devices (tube head, timer button, portable processing box and lead apron). Twenty surfaces of 4 dental radiology clinics were cultured in different media. The results showed that 70 percent of the surfaces had contamination. All the dental x-ray devices assessed were contaminated (tube head, timers or both) as well as all the lead aprons. The portable processing boxes showed 75 percent of contamination. The groups found no statistical significance between the different surfaces assessed and the microorganisms. The highest frequent microorganisms found were from Staphylococcus genus. The authors concluded that because of the high incidence of contamination found, the x-ray devices used in the dental clinics could be at potential risk of cross infection, demonstrating the necessity for applying biosecurity practices when taking radiographic and during radiographic processing.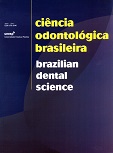 Downloads
Section
Clinical or Laboratorial Research Manuscript