Dentistry teachers and the Burnout Syndrome
Keywords:
Saúde Ocupacional, Esgotamento Profissional, Odontologia, Professores, Saúde Pública
Abstract
The Burnout Syndrome is considered a psychosocial problem to which teachers are routinely exposed. This study was conducted to estimate the prevalence of burnout in Dentistry teachers and its relation to relevant socio-demographic variables. The participants were 70 teachers from the undergraduate Dentistry Course, Faculty of Dentistry of Araraquara – UNESP. Oldenburg Burnout Inventory (OLBI) was used. The prevalence of burnout was estimated. In order to compare mean scores of burnout dimensions for each variable of interest Student's t tests, for a significance level of 5%, were performed. Mean age of participants was 46.0 ± 6.1 and teaching experience was 19.6±7.6 years. The prevalence of burnout was 17.1%. Low mean scores for Exhaustion (2.11±0.61) and Disengagement (1.73±0.50) were observed. There were statistically significant differences in the exhaustion dimension between genders (p=0.049), for participants who reported taking medication due to work (p=0.008) and for those who have thought about quit teaching (p=0.001). There was no statistically significant difference between Exhaustion scores as to teaching experience and also Disengagement scores according to the habit of taking medication, the experience as a teacher and gender.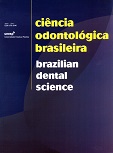 Downloads
Section
Clinical or Laboratorial Research Manuscript