Scanning Electron Microscopy in modern dentistry research
Keywords:
endodontia, peridontia
Abstract
The purpose of this article was to review the usage of Scanning Electron Microscopy (SEM) in dentistry research nowadays, through a careful and updated literature review. By using the key-words Scanning Electron Microscopy and one of the following areas of research in dentistry (Endodontics, Periodontics and Implant), in international database (PubMed), in the year of 2012 (from January to September), a total of 112 articles were found. This data was tabled and the articles were classified according to the usage of SEM (magnification and type of detector) and if this information was obtained either in the summary or only in the full-text article. A critical review was also performed, with new guidelines regarding the usage of SEM in modern dentistry research.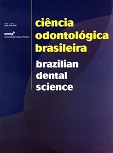 Downloads
Section
Literature Review Manuscript