Influence of sandblasting distance on enamel and ceramic structure bond strength
Abstract
Objetive: The purpose of this study is was to evaluate the influence of sandblasting ceramic and enamel structure on bond strength, changing  distance.
Material and methods: 60 third molars , were selected, enamel surfaces were ground flat with wet 600 - 2000 grit aluminum oxide abrasive papers  and polished with three, one, and one-fourth micrometer-grit diamond pastes. Obtained 120 lithium disilicate-based core ceramic discs ( 2 mm diameter;1 mm thickness), divided into 7 groups  [Group C, don't sandblasting, Group SB-E(5-10) enamel sandblasting 5 and 10 mm, Group SB-C(5-10)  ceramic sandblasting 5 mm and 10 mm, Group SB-EC(5-10)  enamel and ceramic sandblasting 5 mm and 10 mm]   after was performed microshear and Atomic Force Microscopy (AFM), Statistic Teste of normality , after one-way ANOVA and Tukey test (?: 0.05).
Results: The group C present bond strength (59.2±12.5), the group SB-E 5 mm (21.7±08.8) (p<0.005), the group SB-E10 (53.6±14.3).
Conclusion: The use of sandblasting treatment of the enamel surface a 5 mm by 20 seconds decreases the bonding strength to microshear.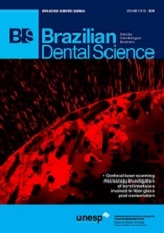 Downloads
Section
Clinical or Laboratorial Research Manuscript