Influence of titanium nanotubular surfaces, produced by anodization, on the behavior of osteogenic cells: in vitro evaluation
Abstract
Objective: The objective of this study was to evaluate in vitro the influence of the anodized surface of Ti35Nb7Zr
alloy on the behavior of osteogenic cells, for future application in biomedical implants. Material and Methods:
For the development of this research, samples of commercially pure titanium (TiCp) and samples of Ti35Nb7Zr
alloy were anodized, both were characterized by scanning electron microscopy (SEM) and were plated afterwards
with human osteoblast-like cells (MG63 line) (2 x 104). Cell adhesion, cytotoxicity test, formation of mineralization
nodules and a comet assay were also performed in different periods. The bottom of the plate was used as a
control, without a sample. Results: SEM analysis showed that the topography of both samples presented surfaces
covered by nanotubes. Cellular morphology exhibited spreading in both samples proposing an intimate cellmaterial
liaison. After 3 days, the Ti35Nb7Zr group exhibited greater cell viability than the TiCp group (p<0.01).
Regarding calcium content, there was no statistical difference between the anodized groups, but there was a
difference between the experimental groups and the control group (p<0.01). In the comet assay, the percentage
of DNA in the comet tail did not exhibit any significant difference (p>0.05) among the groups in the evaluated
periods. Conclusion: It was concluded that this process of anodization was efficient to form nanotubes, as well
as promote a positive influence on the behavior of osteogenic cells without promoting cell damage.
KEYWORDS
Nanotopography; Osteoblast; Titanium alloy; Titanium implants.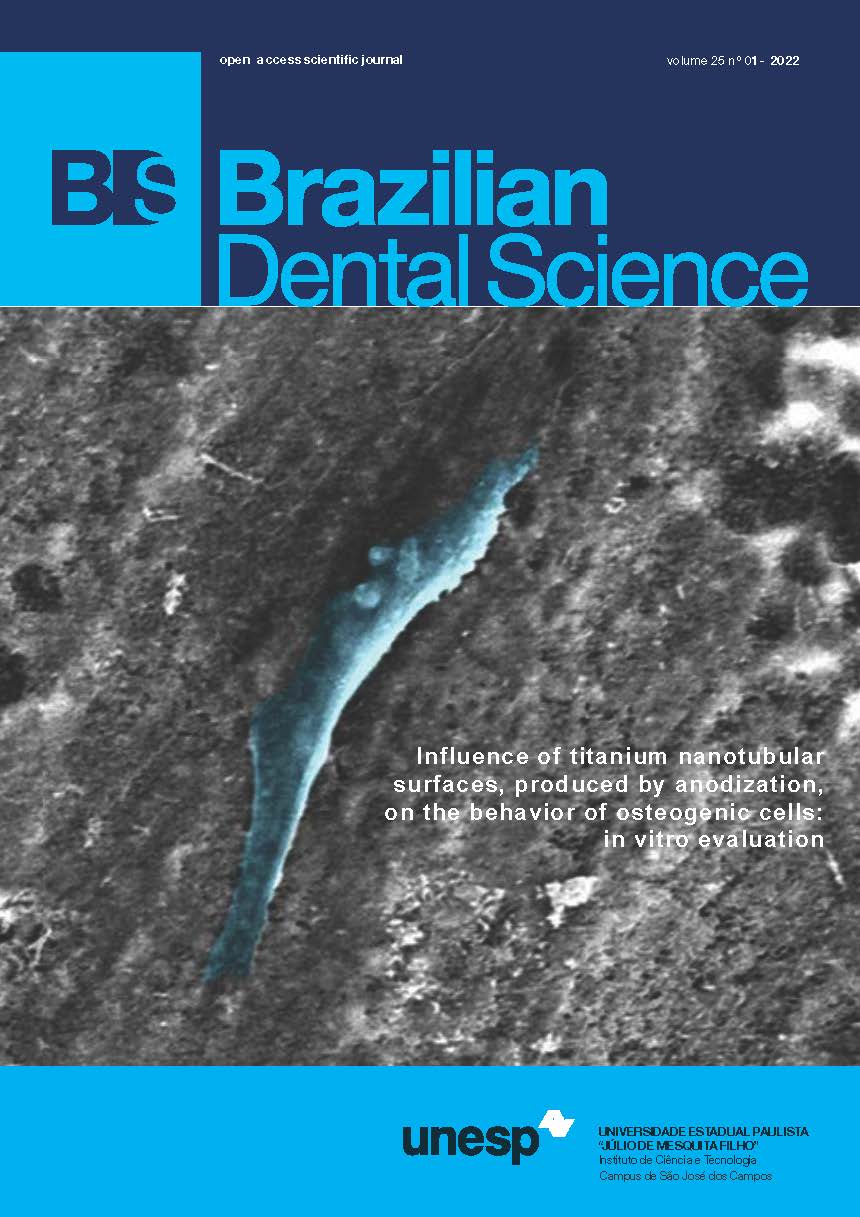 Downloads
Published
2022-01-07 — Updated on 2022-03-29
Section
Clinical or Laboratorial Research Manuscript