Effect of radiotherapy on the differentiation and osteogenic activity of mesenchymal stem cells on dental implants
Abstract
Objective: to evaluate the differentiation and gene expression of transcripts related to osteogenesis in a primary
culture of Mesenchymal Stem Cells (MSCs) derived from rat femurs submitted to radiotherapy and the installation
of pure titanium implants. Material and Methods: fifty-four rats received titanium implants in both femurs and
were divided into three groups: Control: implant surgery (C); Implant + immediate irradiation (IrI), and Implant
+ late irradiation (IrL). Euthanasia occurred 3, 14, and 49 days after surgery. The bone marrow MSCs from the
femurs were isolated and cultivated. The cell viability, total protein content, alkaline phosphatase (ALP) activity,
and the formation of mineralization nodules and cellular genotoxicity were analyzed. The gene expression of
Alkaline Phosphatase (phoA), Collagen 1 (COL1), Runt-related transcription factor 2 (RUNX2), Osterix (OSX),
Osteopontin (OPN), Integrin B1 (ITGB1), Bone Sialoprotein (BSP), Osteonectin (SPARC), Osteocalcin (Bglap),
Transforming Growth Factor B-type (TGF-B), Granulocyte-Macrophage Colony Stimulating Factor (GM-CSF),
Interleukin-6 (IL-6), Apolipoprotein E (APOE) and Prostaglandin E2 synthase (PGE2) were evaluated by qRTPCR.
Results: ionizing radiation suppresses the gene expression of essential transcripts for bone regeneration,
as well as cellular viability, as observed in the IrI and IrL groups. Conclusion: although this can lead to the loss
of osseointegration and failure of the implant, the MSCs showed more activity at 49 days than at 3 and 14 days.

KEYWORDS
Cancer treatment protocol; Osseointegration; Osteogenesis; Bone regeneration; Dental implants.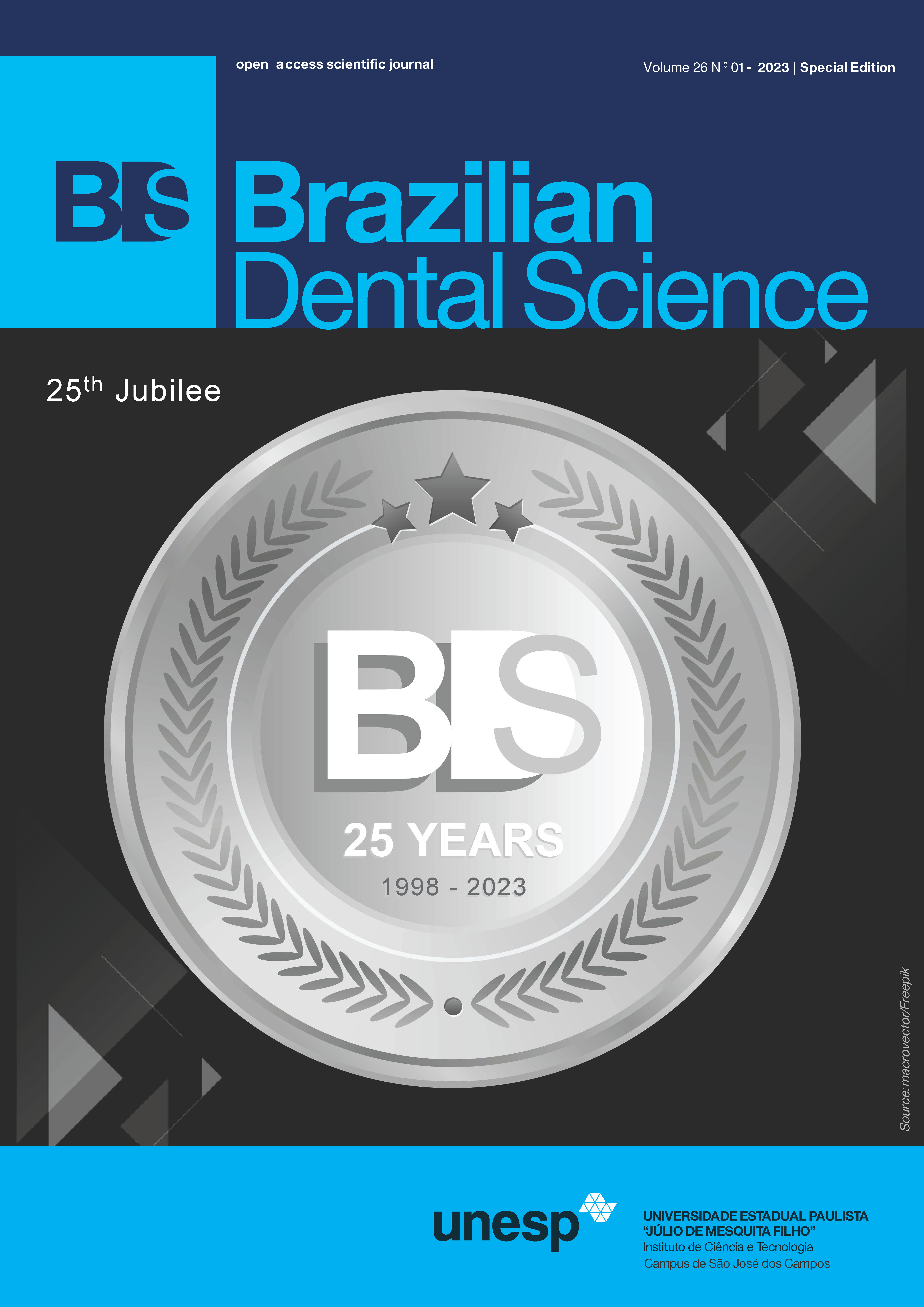 Downloads
Section
Clinical or Laboratorial Research Manuscript