Confocal laser scanning microscopy investigation of bond interfaces involved in fiber glass post cementation
Abstract
Objective: This confocal microscopy study evaluated the cement/dentin and cement/post interfaces along the root canal walls when fiber glass posts were bonded to dentin using different types of cements.
Material and methods: Thirty endodontically treated premolars were divided into 3 groups according to the adhesive materials used in the bonding procedure: Prime & Bond 2.1/Self Cure + Enforce, RelyX Unicem and RelyX Luting. Rhodamine B dye was incorporated in the luting materials for the cementation of the fiber glass posts (Exacto, Angelus) to dentin. Three transversal slices (apical, middle and coronal) were examined under confocal laser scanning microscopy. Statistical analysis was performed using the Kappa, Kruskal-Wallis and Dunnet tests.
Results: The Prime & Bond 2.1/Self Cure + Enforce presented a uniform formation of tags in the dentin but gaps in the cement/dentin interface. The RelyX Unicem and RelyX Luting presented an adhesive interface with a fewer amount of gaps, but showed shorter tag formation than the Enforce system. All cements presented the same pattern of bubbles inside the cements. The RelyX Luting presented a greater amount of cracks inside the cement in comparison with the other cements in the coronal third, while no difference was observed between RelyX Unicem and Enforce. The RelyX Luting showed the lowest quantity of cement penetration into the post.
Conclusions: In general, the quality of bonding interfaces of fiber posts luted to root canals was affected by both location and type of cement.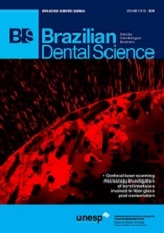 Downloads
Section
Clinical or Laboratorial Research Manuscript