Repair Protocol of Porcelain Laminate Veneers Through Reattachment of the Fractured Ceramic Piece: A Technical Report
Abstract
This technical report has been developed to repair the ceramic laminate veneer without removing after fracture. The bonding between the tooth and the laminate veneer is very strict, thus removing the restoration is difficult. The disadvantages such as the loss of tissue from the tooth, the cost and time loss are eliminated with this technique. In this technical report, the cementation of porcelain to porcelain in the presence of the fractured piece is explained step by step.
Keywords
Ceramic; Laminate veneers; Repair.
References
D'Arcangelo C, De Angelis F, Vadini M, D'Amario M. Clinical evaluation on porcelain laminate veneers bonded with light-cured composite: results up to 7 years. Clin Oral Investig 2012;16:1071-9.
Layton DM, Clarke M, Walton TR. A systematic review and meta-analysis of the survival of feldspathic porcelain veneers over 5 and 10 years. Int J Prosthodont 2012;25:590-603.
Morimoto S, Albanesi RB, Sesma N, Agra CM, Braga MM. Main Clinical Outcomes of Feldspathic Porcelain and Glass-Ceramic Laminate Veneers: A Systematic Review and Meta-Analysis of Survival and Complication Rates. Int J Prosthodont 2016;29:38-49.
Arif R, Dennison JB, Garcia D, Yaman P. Retrospective evaluation of the clinical performance and longevity of porcelain laminate veneers 7 to 14 years after cementation. J Prosthet Den 2019.
Kang SH, Chang J, Son HH. Flexural strength and microstructure of two lithium disilicate glass ceramics for CAD/CAM restoration in the dental clinic. Restor Dent Endod
;38:134-40.
Mohsen C. Corrosion effect on the flexural strength & micro-hardness of ips e-max ceramics. OJST 2011;1:29.
Della Bona A, Mecholsky Jr JJ, Anusavice KJ. Fracture behavior of lithia disilicate-and leucite-based ceramics. Dent Mater 2004;20:956-62.
Srichumpong T, Phokhinchatchanan P, Thongpun N, Chaysuwan D, Suputtamongkol K. Fracture toughness of experimental mica-based glass-ceramics and four commercial glass-ceramics restorative dental materials. Dent Mater J 2019;38:378-387
Guess PC, Schultheis S, Bonfante EA, Coelho PG, Ferencz JL, Silva NR. All-ceramic systems: laboratory and clinical performance. Dent Clin North Am. 2011;55:333-52.
Höland W, Rheinberger V, Apel E, van't Hoen C, Höland M, Dommann A, et al. Clinical applications of glass-ceramics in dentistry. J Mater Sci Mater Med. 2006;17:1037-42.
Özcan M, Al-Haj Husain N, Maziero Volpato CA. Verblendungsfraktur-direkte und indirekte Reparaturmethoden. Quintessence Int. 2018;69:650-7.
Loomans B, Özcan M. Intraoral repair of direct and indirect restorations: procedures and guidelines. Oper. Dent. 2016;41:68-78.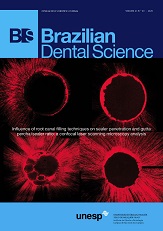 Downloads
Section
Case Report / Clinical Technique Manuscript