Microtensile bond strength of two self-adhesive cements to enamel and dentin: bonding efficiency and thermocycling effect
Keywords:
Cimentos Dentários, Cimentação, Microtração
Abstract
The aim of this in vitro study was to evaluate the bonding efficiency between two self-adhesive cements to enamel and dentine, with and without previous dental surface conditioning, before and after thermocycling. Thirty-six molars were divided into 3 experimental groups and 01 control group. The self-adhesive resin cements selected for the experimental groups were: RelyX Unicem (subgroups RE and RD) and Bifix SE (subgroups BE and BD). For control groups, a conventional resin cement, Variolink II (subgroups VRE and VRD), was used. The specimens were submitted to microtensile bond strength test. The results were submitted to analysis of variance (ANOVA) and Tukey's test. The results showed statistically significant differences between VR group and the others before and after thermocycling. According to the results obtained, it can be concluded that self-adhesive cements, despite of their practicality and less sensitive technique concerning to cementation, have lower adhesive resistance when compared to conventional resin cements.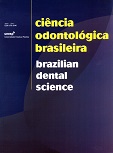 Downloads
Section
Clinical or Laboratorial Research Manuscript