Atraumatic restorative treatment in Brazilian schoolchildren: 12 months preliminary clinical results
Abstract
Objective: To evaluate the clinical efficacy between two GICs, Fuji IX (GC Int. Corp.) and Ketac Molar (3M ESPE), used in Atraumatic Restorative Treatments (ART).
Materials and Methods: A total of 82 children age between 6 and 9 years old are included in this study. The materials criteria application followed the "split mouth" design, 71 restorations and 98 sealants were carried out with the Fuji IX in the left hemi arches and 70 restorations and 99 sealants were carried out with the Ketac Molar in the right hemi arches. The procedures were conducted in a school that did not have any dentistry equipment. Previously to the restorative procedure, the children were supervised during tooth brushing. A trained dentist carried out all the restorations and sealants at the school playground with natural light and the teeth were isolated with cotton rolls. The performance of the restorations and sealants was evaluated for visual inspection in a 12 month preliminary follow up by one blinded trained examiner.
Results: No significant difference was shown between the success rate of the GICs Fuji IX and Ketac Molar for the restorations (p>0.05) and sealants (p>0.05). Regardless of the material, the success rates were 82% for the sealants, 76% for the class I and 73% for the class II restorations.
Conclusion: The Atraumatic Restorative Treatment preliminary results provided curative and preventive treatments for patients who do not have access to conventional treatment.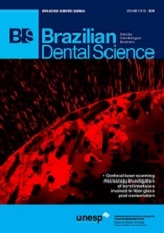 Downloads
Section
Clinical or Laboratorial Research Manuscript