Health problems due to dental practice at the public service of Campina Grande / PB / Brazil
Keywords:
Riscos Ocupacionais, Transtornos Traumáticos Cumulativos, Odontologia
Abstract
The aim of this study was to identify health problems resulted from dental practice. The sample consisted of 32 dentists. A questionnaire comprising mainly objective questions was used. Data were analyzed descriptively and presented in tables. Most of the respondents were females (75%) and the predominant age range was 26-35 years (40.6%). Fifty-three point one percent of dentists had already suffered cutting and punching accidents during their activity. Considering the occupational diseases, 62.5% of participants had in the past or still present them, while the rest 37.5% of the participants have never had this type of disease. The most prevalent clinical complaint was muscle pain in lumbar region (65%), followed by pain in the spinal column (10%). Tendinitis (60%), varicose veins (40%) and presbyopia (40%) were the most prevalent diseases occasioned by the dental practice, according to the dentists. Therefore, in this study, most of the dentists working at the public health service in the city of Campina Grande (PB, Brazil) had undergone cutting and punching accidents, and most of them had or still present some occupational disease.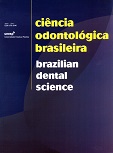 Downloads
Section
Clinical or Laboratorial Research Manuscript